And Sunday was Patti LuPone's concert at Heinz Hall, which is a gorgeous building. My seat was on the aisle just four rows from the stage. And Patti was amazing. She was wearing a knee-length black dress and has slimmed down quite a bit. Not that she hasn't always been absolutely gorgeous, but she looks positively svelte now. The Tumblr folks have noticed that she's taken a dip in the fountain of youth and we've started referring to her as Benjamin Button. Her voice was incredible when she sang "Meadowlark". And her rapport with the audience was great. I think I had a huge grin plastered on my face the entire concert. It was definitely worth it to sit so close to the stage, because there were times when I felt like she was singing right to me. For her first encore, she sang "The Ladies Who Lunch", complete with the vodka stinger splash. And the second encore was her a capella rendition of "A Hundred Years from Today". Just a great afternoon all around.
And it only got better at the stage door. We were escorted in small groups through the stage door for autographs. Unfortunately, it was strictly no pictures allowed, but I couldn't care less. I love that the moment Patti's off stage, the hair comes down, the dress is exchanged for a black sweater and slacks, and the contacts are traded out for glasses. It still takes me by surprise how tiny she is. The voice and the personality are so big and the woman is a Broadway legend, yet she's still this woman who looks you in the eye and seems genuinely grateful that you've come to hear her sing. When it was my turn, I walked up to her with a shy grin and handed her my program for an autograph.
Patti: Thank you so much for coming.
Me: Thank you. You're just brilliant, as always.
Patti: Oh, thank you.
Me: Would you mind signing twice?
I had brought along my Playbill from
Women on the Verge of a Nervous Breakdown
. I had gotten the autographs of most of the stars from that show and had been hoping to (finally) get Patti's as well after missing her outside the stage door both times.
Patti:
(upon seeing the WOTV Playbill)
Oh sure! Did I not sign this for you before?
She asked as she looked over all the signatures on the Playbill with a soft smile.
Me: I just missed you outside the stage door.
Patti: Well, I will take care of that right now. Right between the eyes.
At first I was a little confused. Then I realized that she was indicating where on the Playbill she was going to sign.
Me: Thank you so much. Have a great time on Broadway later this week.
Patti: Thanks! I will.
I started to walk away when I heard her ask, "Did you enjoy the show?" I thought she was talking to the next person in line, but for some reason, I turned around. And Patti was looking at me. "Of
Women on the Verge
?" she asked.
Me: Yeah, I really liked it.
Patti:
(continues signing for other people while talking to me)
I am so proud of that show. I had such a great time in it. And, you know, with a little more time to work on it, you know . . .
(shrugs)
Me: Well I really liked the show, and your performance was brilliant.
Patti:
(looks back at me)
Aww, thank you.
Me: You're welcome.
Patti:
(smiles)
Bye!
Me:
(smiles)
Bye.
It may sound over-confident, but I'm gonna call that a fangirling win. I felt a little bad for maybe monopolizing Patti's time. I hope that the other people in line weren't too upset about that. Afterward, I was walking back to my car with the two girls who had been in line behind me. And I joked about how that went well and that I had used my words. And they joked about how we all needed to update our Facebook statuses to incite the jealousy of our friends.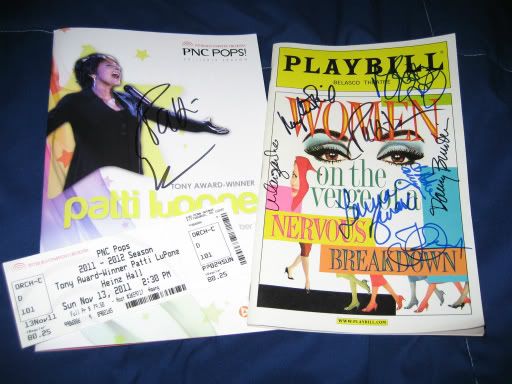 And that, ladies and gentlemen, is what I would describe as a really great weekend.
Still on a high after a great weekend in Pittsburgh. The weather was nice and my hotel was great. I got to Pittsburgh on Saturday afternoon and had a great evening of walking around, eating out, and watching the Notre Dame game from the comfort of my very comfortable hotel room.
Current Mood:

happy

Current Music:

"Good Life" ~ OneRepublic